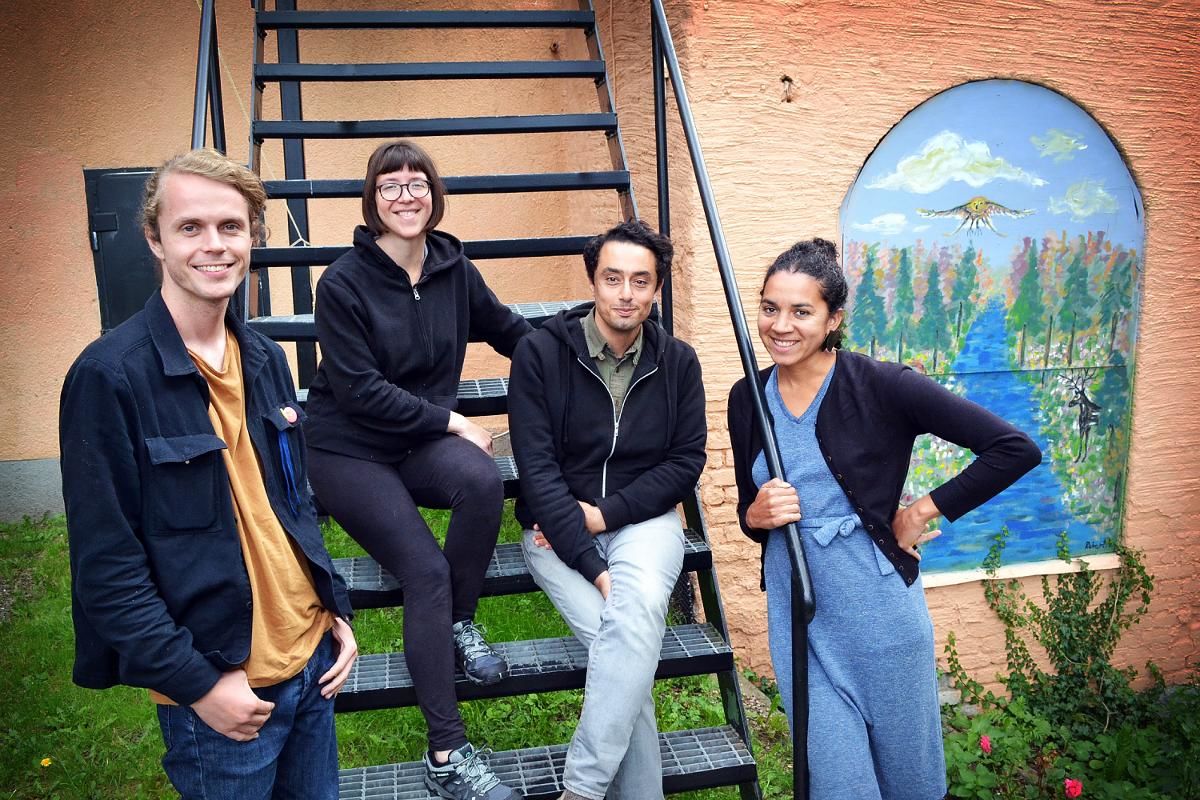 In August 2017, Minnesota artists, Lela Pierce, Sarita Zaleha, Moheb Soliman, and Larsen Husby,participated in the first ever Soap Factory international residency exchange by spending a month at the Kultivera residency part of the New Småland project in Sweden . On January 9th the artists will convene at the American Swedish Institute to discuss their experience and how it has influenced their art practice.
About the Artists
Sarita Zaleha has a multidisciplinary creative practice that includes installation, photography, video, printmaking, fiber arts, and social practice. Zaleha's current work explores the interaction between the Arctic as a specific place impacted by rising temperatures and human attempts to observe, control, and preserve their immediate environments.
Moheb Soliman is an interdisciplinary poet from Egypt and the Midwest, whose work often deals with nature, modernity, identity, and belonging through writing, performance, and installation projects. In the past few years, he has been exploring his practice extensively through the site of the Great Lakes region in which he has lived. Soliman finds this area fascinating as an environmentally coherent borderland central to the history of North America. Currently, he is researching and developing a "poem of sublime proportion" through a Forecast Public Art grant to be embedded around the region as 50+ lines/sculptures.
Lela Pierce is a multiracial (Black: Negro, Creole and White: Croatian, Lemko, Rusyn) American visual artist and dancer. Lela Pierce is interested in continuing her investigation of invasive plant species in Sweden, looking at the attitudes, language, stories and relationships people have to their presence in more rural areas. Lela hopes to create an immersive installation during the residency, using plant matter from invasive species to express insights around migration, colonization, balance, control, violence, and acceptance/rejection.
Larsen Husby moves frequently between media, including printmaking, painting, sculpture, and installation. He is fascinated by maps, and his art explores the connections (and disconnections) between places and our representations of them. A current project of Larsen's is a conceptual drawing and durational performance, mapping the network of streets that make Minneapolis. Originally conceived as a means of delving more deeply into his adopted home, Larsen hopes to conceive of what it means to truly "know" a place.
About the International Exchange Program
The Residency exchange is a 1-2 month placement program, providing emerging and mid-career Minnesota artists support to research, produce, exhibit new works, and explore the artistic, social and cultural context offered by a host city. Upon their return, residency artists will share their experiences and any new work through an artist talk and studio visit with one of The Soap Factory's established curatorial advisors.
Each international exchange is unique and aims to provide programming and networking opportunities in addition to travel and material support. For all residency artists, becoming part of a distinct network of cultural establishments, conversations, and communities will enhance the experience of making work in a new city, supported by a valued partnership organization.
In July 2018, curators from the New Småland Project will send two Swedish artists, Anna Axfors and Åsa Jungnelius to participate in the new residency program at The Soap Factory.
In the fall of 2018 the Soap Factory will once again send four Minnesota artists to participate in the Kultivera residency program, applicants are encouraged to attend this artist talk to get a feel for the program. Application information can be found here.
About Kultivera
Kultivera operates international cultural programs that are physical, social and creative; that stimulate and inspire both the artists and the local community. Kultivera creates cross-border meetings between artists, community, and industry that allow different areas to fertilize each other in mutual interaction. Kultivera's idea is to connect several European cultures, and promote democracy, quality, innovation, diversity, and cultural development.

The artist is not bound or isolated to a specific location or place, but is inserted in a typical Swedish small-town situations where they can operate internationally through the local.
About the New Småland Project
New Småland is an interregional art project that was initiated as a collaboration between four art institutions, three regions, and a university in Småland. New Småland's ambition is to formulate long-term relationships, experiment, and create conditions for critical and cultural sustainability. This idea is based on locate and connect artists and organizers in the three regions. Regardless of economic and institutional circumstances each are treated by the various stakeholders as equal resources and knowledge nodes in investigating local and regional issues. Working crosswise between artists and institutions, and combining local knowledge with international contemporary art, design, and critical thinking opens possibilities to explore together and rethink the political, social, and aesthetic landscape of Småland.